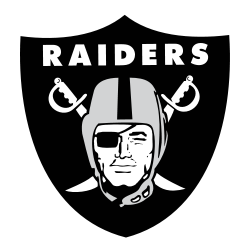 The new Vegas Raiders Logo will look remarkably like the old Oakland Raiders logo. Sources from within the club have said on more than one occasion that a rebranding of the club is not under consideration.
Many commentators have taken this statement to mean that the team will not be renamed; something like Vegas Volcanoes, Vegas Pirates or Vegas Señors.
But vegas-raiders.net understands the comments are more aimed at quelling fans concerns that the team might change their famous logo or, maybe worse, the team's colours.
So the Vegas Raiders logo is likely to be a pirate, replete with eye-patch, wearing an old-style football helmet in front of crossed cutlasses.  The pirate is, of course, a 'raider' (a person who attacks an enemy in their territory).
There's actually good precedent, if you want to call it that, backing up the thought that the logo will remain the same. That's because the symbol didn't change in its main essence when the team first moved from Oakland to Las Vegas, nor did it change when they moved back to Oakland.
Indeed the only main change that has been seen to the emblem, since it was created in 1961, has been the styling of the shield.