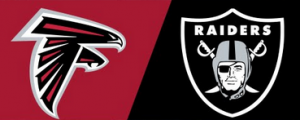 The Atlanta Falcons at The Raiders score ended 35-28 in favour of the away team, denying the future Vegas Raiders a 2-0 start to the season.
In another exciting game for neutral fans, both offenses ruled the day which might be surprising for two teams both headed by former defensive Coaches.
It was probably the Raider's inability to stop the Falcons moving the chains that lead to the loss. That, and the Raider's old problem against Tight Ends and a bit of plain bad luck.
For the majority of the game, both sides traded scores. Del Rio played his part with two successful challenges; one for the Falcons D having 12 men on the field and one for a poor spot of the ball. Both challenges resulted in the Raiders securing previously-lost first downs.
At 14-21, the coach also made another ballsey call. He let the O go for it on 4th and 1, resulting in Carr finding Crabtree on a slant to tie the scores at 21-all. This team is obviously going to go for it, no matter what.
Then the bad luck happened. Ryan marched his team down the field but looked to have failed in the red zone when hi pass hit the intended receiver on the shoulder. But as luck would have it the ricochet fell to another Falcons player who had a free walk into the end zone, putting the scores at 28-21.
Back came the raiders and it looked like they'd tied the game again with a sizzling catch and run from Cooper. Unfortunately, though, he'd stepped out of bounds and then touched the ball first, so the score was wiped off and the ball marched back down the field. To rub salt into the wounds, the next drive saw Coleman break out for a 30y run and TD to make it 35-21.
The Raiders didn't give up, though. Holmes made a smart adjustment in the end zone to latch onto Derek Carr's third TD of the day to bring it to 35-28. The Falcons were unusually made to punt and back came the Raiders in search of another last-minute victory. But time just wasn't on their side. The skill team had a throw around at the end, but to no avail. The Falcons ran out 35-28 winners to put both teams on 1-1.
Summary: The Raiders' D really needs to show up from now on, having allowed 500y in the first two weeks of the season.