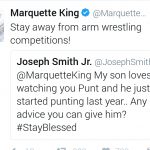 Mershawn Lynch hasn't even joined the Raiders yet* and he's already in trouble with the NFL authorities over his links to gambling in Vegas.
The former, or current, or retired running back with the Seattle Seahawks has reportedly taken part in an arm-wrestling contest in Las Vegas.  Along with Steelers linebacker, James Harrison, Lynch captained a team in the 2017 Pro contest with the aim of raising money for charity. Other NFL players taking part include Kenny Stills (watch out Kenny, your owner was the one who voted against the Raiders move to Vegas), NaVorro Bowman and  Patrick Chung plus our very own punter and showman Marquette King and defensive end Mario Edwards.
The NFL authorities are not impressed by the event taking place in a casino.  Just last year they prevented Tony Romo from appearing at a Fantasy Football promotional event in Vegas for just that reason.
USA Today solicited an interview with Joe Lockhart, the NFL's executive vice president for communications.  He said, "Had we been asked in advance if this was acceptable, we would have indicated that it was in direct violation of the gambling policy. No one sought pre-approval."
Apparently the gaming machines were switched off around the players to try and circumvent the problems, but that hasn't stopped the NFL sending a crack squad of investigators storming up to Vegas in order to investigate.  Er, guys, you're too late.  And why go anyway? The players hardly tried hiding the fact, it's all over their social media pages.
I'll leave the conclusion to the aforementioned Mr King.  When asked on twitter if he had any advice for someone's son who wanted to become a punter, the response was, "Stay away from arm wrestling competitions"
*Will he or won't he?  Watch this space.